Yacht Delivery on Ocean Route for SE Florida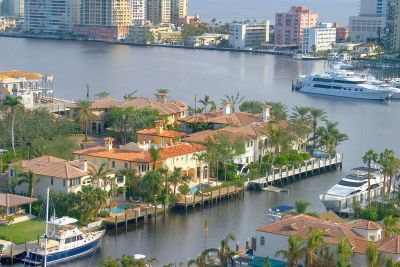 When the weather in the Northeast section of the United States begins to get a little on the chilly side, people start getting themselves ready for their annual trip to their winter homes. Aside from booking the airline tickets and making arrangements for the car to be transported to the vacation home, boat owners need to make plans with their ocean route vessel delivery company. It's amazing that so many people think that all they need to do is call a boat delivery service and the vessel will be transported immediately. Unfortunately, this is not the way things work. Advanced booking with a reliable ocean route boat delivery company will ensure that your vessel delivery is done on time. The expert Captains at Simex International LLC - Marine Surveyors in Fort Lauderdale do all that they can to keep their yacht delivery schedules during ocean route transportation services.
Ocean Route Yacht Delivery
The winter weather associated with the northeast and Mid-Atlantic States can surely take its toll on a vessel. Even worse, the weather is generally too cold for anyone to actually enjoy going out on the water. For these reasons, many people hire yacht delivery Captains to transport their vessels from their home states in late September or October. This allows them the use and enjoyment of their boats, even when it is freezing cold back home. Of course in May or June, the ocean route yacht delivery Captain will return the vessel to its home waters. The ability to use the boat all twelve months of the year is truly a dream come true for any boat owner. Simex International LLC - Marine Surveyors in Fort Lauderdale provides the highest quality yacht delivery services available between the Atlantic States and Florida.
NE and SE Ocean Route Vessel Delivery
Whether you have a moderate size boat or an enormous yacht, the stress that goes along with having an ocean route vessel delivery service transport your boat can be tremendous. After all, most seafarers are as in love with their vessels as they are with their families. Of course, few are willing to admit this buy no worries, that secret is safe here. Having a Captain who provides reliable boat delivery and understands a man's relationship with his vessel is essential to lessening the stress involved in the transport. At Simex International LLC - Marine Surveyors in Fort Lauderdale, our Captains and crew treat your yacht as if it were their own during all ocean route vessel delivery services.
Simex International LLC – Experience and Expertise
The Captains and crew of Simex International LLC - Marine Surveyors in Fort Lauderdale have the licenses and qualifications to safely handle all of your boat delivery service needs. Of course, we are able to handle power and sailing vessels for both ocean route yacht delivery and inland boat delivery. Call 954-854-8181 to set up your vessel delivery today.