Needed Help Going Bigger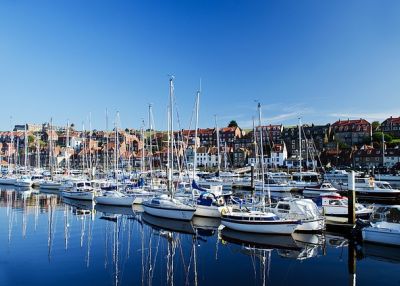 From the time I was a boy, my family had always owned boats. Heck, I think I was about eight years old when my Dad proudly presented my with a rickety, old rowboat that was his when he was a kid. I was petrified the first time he pushed me out onto the lake. The thing was just so darned old that I thought I would sink right there while looking at my parents on shore. That's one of my scariest, but fondest memories of my childhood.
The best thing that I gained from that experience was my love and respect for the water. This is what brought me from the lakes of Michigan down to the beautiful Atlantic Ocean at Fort Lauderdale as an adult. As my young family grew, so did my boats. They needed to be able to accommodate my wife and kids. Well, after six kids you can imagine that I needed a good sized boat for those overnight outings. I'm not good with the "his foot touched me" or "she hits in her sleep" thing. I want to relax on the boat and not deal with sibling issues.
Obviously, we needed a bigger boat. I saw an ad for a thirty-six foot vessel that I thought would fulfill all of our needs. I went to look at it first, and was pleasantly surprised that the photos were actually up to date. It ran like a champ and honestly, I was ready to throw cash down on the table however; I promised my wife that she could see it before making the decision. Feeling whipped, I went home and told her all about it. We both went back the next day. Much to my surprise, she liked it even more than I did. There was a catch though. She said she would require a pre-purchase inspection performed by a marine surveyor. I figured the deal would be dead.
Fortunately, the seller had no problem with this and my wife immediately called Simex Marine – Marine Surveyors. They're the people who did the insurance evaluation on our other boats. They took great care of us and performed the pre-purchase inspection in about a week. We made the deal and have been thrilled ever since. I would strongly suggest that anyone buying a new vessel call Simex Marine – Marine Surveyors for a pre-purchase inspection. It's the smartest thing any boat owner could ever do.